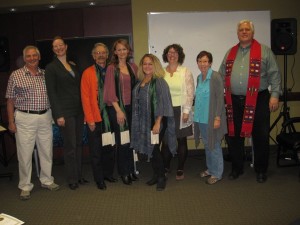 "Universal Church of the Master has always expressed itself on a platform of acceptance of Truth from whatsoever source it may be manifested, it's ministers and members are not bound to any beliefs, Creeds, or dogmas…any obligation to a man – made standard of doctrine, would restrict the individual and not permit the free exercise of reasoning for those on the Path of searching for Truth of Spiritual and/or Psychic Science or the Practice thereof." – Fitzgerald, A New Text of Spiritual Philosophy and Religion
Reverend Richard Jelusich, Ph.D. – Pastor
Rev. Jelusich has been teaching, giving lectures, workshops and private sessions for over 20 years.  He served as Dean of Administration and Core Faculty at the California Institute for Human Science, is on the Board of Directors and remains as core faculty.  His Ph.D. is in Human Science, and his research work is in light and sound, and the blending of metaphysics and science.  Richard is a gifted intuitive and adept energy worker, accurately reading how the soul-quality infuses itself into our waking personality. Richard has recently been appointed president of UCM Headquarters.
Minister Sara Dishke – President
Minister Dishke is a registered Bowen Therapist through the Bowen Therapy Academy of Australia. She has been practicing the Bowen Technique for over five years and believes Bowen Therapy is a miraculous modality worthy of integration into Alberta's health care model. Homeopathy, Flower Essences, Emotional Freedom Technique (EFT), and Raindrop Therapies are other services she offers in her practice. Whole body holistic healing is her passion and she holds a strong belief in the body, mind, spirit connection as well as the promotion of emotional health and its contribution to overall health and well-being.
Reverend Deirdre Leighton – Secretary
Rev. Leighton is an Spiritual Intuitive, Advanced, Reiki Practitioner,  Ordained Minister and Spiritual Balancing Practitioner. Fascinated with the healing powers of the Ancients, Deirdre trained with gifted intuitive and adept energy worker Dr. Richard Jelusich; Mayan Shaman and Elder Miguel Angel Vergara;  Spiritual Shaman Doug Horne, and has studied the Munay-Ki Rites. She believes we all have the power within us to not only  heal ourselves but also to heal the World. As Dr. Alberto Villoldo writes in Shaman, Healer, Sage "…Through these fibers of light the wisdom and teachings of time past and future flow."
Reverend Anne-Marie Hennessey 
Rev. Hennessey is a Health & wellness consultant, holistic practitioner, meditation instructor & spiritual life coach. Anne-Marie's dissatisfaction with conventional religion inspired her journey of Spiritual exploration. Through more than 40 years of study Anne-Marie has developed a deep inner wisdom & a strong commitment to supporting others as they walk their own path of spiritual growth & healing.
Reverend Greg MacIntyre – Membership
Rev. MacIntyre owner of The Blooming Lodge, Olds AB has facilitated and instructed many students to become the best person they could become by helping them to see their magnificence through development of their intra and interpersonal skills. He has taken organizations that were in trouble (conflict among their employees) and helped to produce harmony through a series of workshops to develop trust through awareness. 

Minister Ehren Rebmann – Member at Large
Min. Rebmann believes and helps individuals "To actualize my true self and share that with others. To create and celebrate beauty in life, artistic endeavors and spiritual expression."  Owner of Stonespeaker he creates jewellery using mainly stone and crystal specimens and sterling silver wire; most often with a view to the metaphysical properties of the specimens. He also explores glass etching and sculpting in various mediums.

Minister Trae Ashlie-Garen
With a 25-year + journey in Private Practice across Canada and overseas, Trae contributes her intuitive and pragmatic voice to a range of humanitarian projects and cooperative initiatives. She sees being a Minister with the diversity that is emerging as UCM and UCM Alberta (specifically, UCM's mandate to encourage individuals to access, rediscover, learn, develop and practice their innate abilities) as a complement to her transformational efforts toward the "thrivability" of individuals and our planet. You can reach Trae through her website: http://www.traeashliegaren.com/